Nowadays, it's hard to remember Aaliyah without thinking of some of her biggest hits with Timbaland. The two, as friends and collaborators, were there during each other's big career moves and staple moments. Check out some of them. We miss you, Aaliyah!
It All Started With

One in a Million
After Aaliyah left JIVE Records in 1996, Timbaland and Aaliyah began their musical relationship and worked on her second studio album,
One in a Million
. That's where it all began.
The Ad-Libs That Became Staples
Timbaland's muffled ad-libs found a home on Aaliyah's singles, starting with "Hot Like Fire."
W
hen Timbaland
and Aaliyah Shot a Music Video in a Cave
The video and memorable choreography for "Are You That Somebody?" was just as good as the real-life Los Angeles cave it was set in. Owl included.
Aaliyah Featured on Timbaland & Magoo's Debut Single
What better way to solidify a friendship and working relationship than to jump on your collaborator's track? In 1997, Timbaland & Magoo released their debut single, "Up Jumps Da Boogie," which featured Aaliyah and a rapper that you might have heard of by the name of Missy Elliott.
The Movie Link:

Romeo Must Die
With this film, Aaliyah landed her first movie role and served as an executive producer (along with Timbo) on the film's soundtrack. Success is better with friends.
On the Road to the Grammys
Although Aaliyah never won a Grammy, she was alive for two of her five nominations, which were for Timbaland-produced tracks "Are You That Somebody?" and "Try Again."
Making

Billboard

History
Aaliyah made history when she became the first artist to have an airplay-only track, the Timbaland-produced "Try Again," top the
Billboard
Hot 100.
The Timbaland-produced "Try Again" was her highest-charting record, landing at No. 1 on the
Billboard
Hot 100 and beating out high-charting singles like "Miss You" at No. 3 and "Rock the Boat" at No. 14.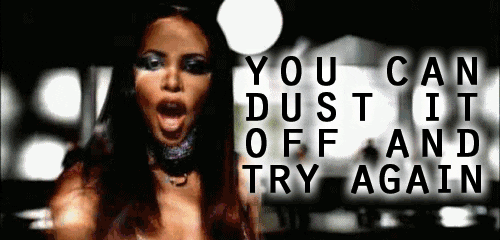 WATCH THE BEST AALIYAH'S MUSIC VIDEOS